Fingering
Essential to Flawless Playing
You are a musician, you love music, you are an "amateur" (lover). These are very true statements and the one that often becomes hidden or loses some of its shine is that you are also and mainly a "fingering artist" and fingering expert. You must excel at fingering both the right and left hands. It is the same as a general (you) instructing each one of his soldiers (your fingers) in conquering the mission (the piece of music you are studying). The fingering I propose is my main strategy at the moment of publication by your own observations and possible adaptations are often called in for.
Christopher Parkening on Andres Segovia, carrer, fingering...
As soon as my students learn how to read the basics of guitar notation, which translates into: figuring out what place on the fret board such dot refers to and count up and down from there, I teach them the art of fingering. There is no way that you will be a good guitar player if you fingering is not as close to perfection as possible. It is preferable that your music reading skill is poor-normal and your fingering skill high than the contrary. You cannot be a fast sight reader and pretend that your fingering will be anything but poor. Fast music reading is basically useful for nothing except to play fast mistakes by the dozen and than say proudly: "I play 236 pieces!". Fingering is more mentally challenging than "practicing" will ever be. Nonetheless, guitar players must excel at fingering, practicing and performing. Below is a picture I took of the score of Bach Chaconne when I was working the piece with Maestro Abel Carlevaro. All the pencil markings and drawings to the left are Carlevaro's. I added my own share of explanations, fingering marks and even a cheering phrase here and there. Further down you can see a close up of the markings. I had to buy a second score where I used white out to leave only the notes and fingering I was going to use and thus avoid confusion and only much later with the advent of computers did I pass it to a digital format that I would then share with my students online.
Fingering is the blueprint, the engineering and architectural sustain of your playing. That means that whenever you get your hands on a transcription and you read "Fingering (or Revision)" by John Doe (or Andres Segovia for that matter), what you must translate that into is: "This transcription is fingered by John Doe and seems to work fine for him, nevertheless, you, will have to make dramatic changes to the fingering and transcription to make it work for you". If you think that you are not experienced enough, then when do you think you are going to be experienced enough? You become proficient at fingering as you finger pieces, or re-finger pieces for that matter. The "other guy's" fingering is still on the music sheet and serves as a general guide. Just compare your work and see if you can improve. The guitarist that fingered the piece, did not know you were going to play the piece 50 years later. Probably you do not even know who that guitarist is or was in the first place, what guitar he used, the size of his body, the size of his hands as well ad his degree of intelligence and the amount of talent or expertise for the job.
See it this way: at least once a week, one of my students shows me a new fingering possibility that did not come to my mind when I first fingered the piece. I am not talking about veteran players but 3 weeks old beginners. There is a good degree of instinct involved in fingering but the greatest input comes from conscious thinking (hard conscious thinking actually). As the years go by, you will probably run into pieces fingered in a way which suits you almost perfectly. Other times, most too often unfortunately, you will have the sensation that the person that fingered the piece was trying to drive the performer insane! The guitar is one of the few instruments in existence that allows for the same notes to be found on different parts of the fret board. This is meant to give us flexibility and not to stiffen us in playing the same sequence in the same way as everybody else.
Unfortunately, the greatest guitar figure of all times, Andres Segovia, left behind a sad legacy with regards to fingering. All the way into his last master class in Los Angeles he would lose it completely if someone dared to change a single fingering to his transcriptions (see the historic video below). Not to mention the monstrosity that you were only allowed to play his transcriptions. I was a young guitar student back in 86, looking back, I cannot understand how the organizers would allow such a dictatorial approach to guitar playing and allow for some of the humiliations that some of the performers at the masterclass had to withstand.
Andres Segovia loses it when Chapedlaine changes his "published" fingering
There are a few basics to guitar fingering that are very obvious but incredibly often neglected: 1) Take FULL advantage of the open strings. I repeat: full advantage. Open strings are like a breath of fresh air for the player. They have to be exploited wisely. They can be used to bond different positions on the fret board; set in the right place in a long-medium scale (or run) they break the often dangerous tension that scales generally bring along. If a transcription you are using does not use open strings enough (most transcriptions you will see), then start by seeing where you can put an open string and work possible fingerings around it. If you suddenly say "It can't be this easy!" - Then you probably hit the jackpot. See? That is how stupid some guitarists can be. 2) Change the fingering and/or remove or transpose notes if you cannot play them without causing unwanted string squeaks. This is very important. It is preferable to leave out a few notes and their accompanying string squeaks than play all the notes with their accompanying string squeaks.
SCENARIO:
I assume that by now we all have that dreamed piece in front of us in the form of a music sheet. It can be the "Homage to Tárrega" or any piece for that matter. The next thing we must have next to us is a pencil and an eraser because these will prove to be our best weapons. Let us take a look at the first, or last or any bar of the piece. I sometimes start with the one bar or bars of the piece that I like the most. At this stage of the learning process it is still secondary to play the piece in an orderly manner.
Look at the first notes or group of notes in the first bar. Take into consideration the right and left hand fingerings but do not assume for an instance that that will necessarily be your fingering.
The first notes in Turina's Homage to Tárrega, is an A chord to be strummed followed by 6 sixteenth notes which lead to the A chord beginning the second bar. Looking at this particular part of the piece we will have to decide the following:
1) The best left hand fingering for us:
The possibilities that immediately come to my mind are: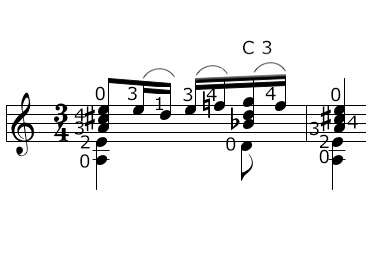 Out of these four options, pick the one that suites you better. Which one will it be? You are the only one who can answer this question. See it this way, it is always best to have more than one fingering possibility. This peculiar flexibility puts our instrument in a category of its own. Mastering this peculiar characteristic will mark the difference between the good and mediocre player. Then again, you might want to consider this fingering choice which would make the playing smoother without affecting the musical idea (this is the option I used in my recent recording).
The right hand will have to focus on the sound quality. Any combination of right hand fingers can be applied here (i.e.: p m i m i p p) as long as the sound is beautiful and as long as we are consistent. One key hint is to practice both hands movements slowly and watching the left hand while moving it in slow motion. Always play at a speed where mistakes are impossible and increase gradually.
Remember that: "If you practice with mistakes you will end up playing perfect mistakes" - A. Carlevaro.
When working on a new piece, I have to keep in mind what my final goal is: To play the piece as perfectly as I can. If my studying and practicing are not perfect, there is no way that the final result will be perfect. In the studying process I must not allow for any mistake to happen. Mistakes are usually the result of one or more of the following:
- Letting our hands go faster than we can handle.
- Being tired.
- Being distracted.
- Applying too much pressure on the left hand thumb.
- Using a less than perfect fingering.
- Not breathing properly.
- Not having analyzed the music thoroughly before trying to play it.
- Practicing with mistakes.
I said earlier that a pencil and an eraser will be our great allies. We must take the time to write down every single clue which might help us play better such as, "breath here", "stretch", "move the arm", "relax", "plant finger", and any other playing mark that will help us to put order to our thoughts. As we are practicing, our brain will be recording all of these playing marks along with the notes and we will feel as though our playing is a secure and solid one.
A metronome and a tape recorder are also great practice friends. Especially the metronome since it will be marking the tempo while we are practicing and our brain works more efficiently in the presence of a marked rhythm.
No matter what your playing level is, these concepts must always be present in your practicing. Remember this: If you admire someone else's playing, you are admiring his practicing. This is the key, the secret. It is not a matter of sitting down with the guitar for hours and hours fooling ourselves. Study by bits if that is all the time you can concentrate for. Then get up, do something else. Do not expect to be able to stay concentrated and in control for a long time on your first study session. The important thing here is that your time with the guitar deserves the best of you even if only for a few minutes a day and by bits. Write down your thoughts and ideas as they come to your mind and read them before getting down to play again.
Know your playing! Center your playing around your strong points and avoid at all costs your weak points especially during concerts. If you are not Speedy Gonzalez (yet), avoid playing pieces with incredibly fast scales until they stop seeming incredibly fast. What some players make us think is fast is simply less slow to them.
One last thing. If you realize that a piece you are playing needs to be restudied and some drastic changes have to be made to any aspect of your technique, go ahead and do it. Believe me, it will only be a matter of days before you can play better than ever. You will be making your artistry every time you face a new musical bar. This is the time to be brave and objective.
I recommend you see John Williams' video "The Seville Concert". In a part of the documentary you see the maestro re-studying a part of one of the pieces he had recorded many times in the past. He was not happy with the previous results and started all over again. It sure was an inspiration to me but definitely proves one key issue. We must be willing to start over and over every time we embrace our guitar.
Renato Bellucci, Copyright, All Rights Reserved 1997-2017
The continuation of this class is in the members area, become a member today.