Pasión Latina LIVE, July 14th 2018. PART 1
Gloria del Paraguay y Renato Bellucci, Noticias Paraguay TV
Gloria del Paraguay
, considered to be one of the world all-time greatest artists (
Image Below: Italian Guitarists Renato Bellucci & Luciano Pompilio, Backstage Pasión Latina
) was recently at my San Bernardino residence and, before the night was over, we had planned
Pasión Latina
(Chapter Paraguay). With only a few weeks to go, and thanks to her amazing stamina, Gloria and I were able to put together an amazing show that will stay with the Paraguayan public for many years to come. One of the greatest highlights of the project was the visit to
Barrios Mangoré's
home in
San Juan Bautista de las Misiones
, in southern Paraguay. This is the town that inspired so many of
Agustin Barrios Mangoré pieces.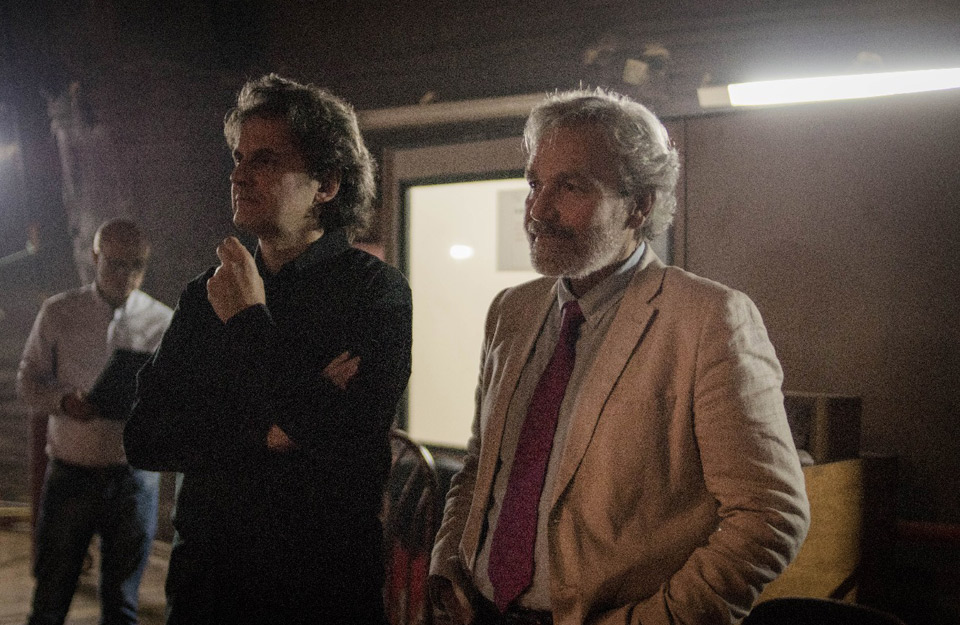 Among the stat that Gloria wanted to join the event was Italian guitarist
Luciano Pompilio
.
In the pictures you can see me playing Barrios' 1918 guitar. I am playing in the main room of Mangoré's childhood home in
San Juan Bautista de las Misiones
while filming the Documentary
"Pasión Latina"
.
(Image Below)
Renato and his Wife Belén Angulo
in Barrios' Childhood home patio.
In The NEWS: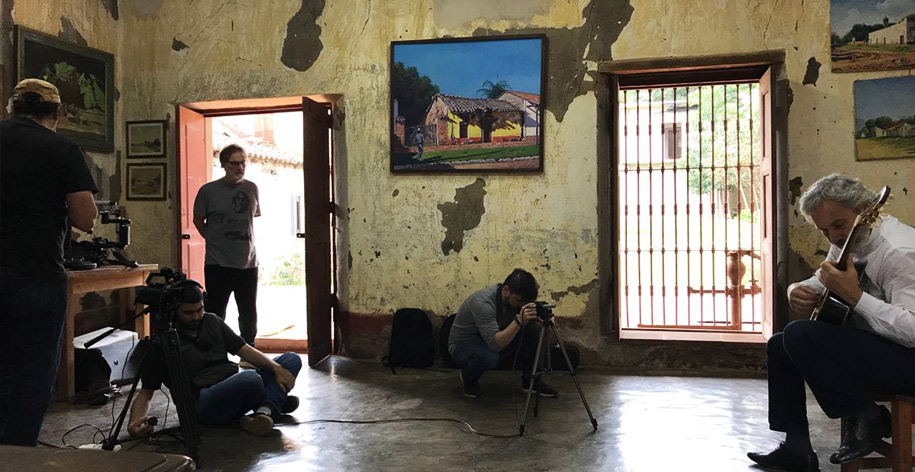 Noticias Paraguay, LIVE, Renato Bellucci plays Barrios
(Image Above) Renato is playing Agustin Barrios' Guitar in Mangoré's Childhood home in San Juan Bautista de las Misiones, Paraguay. In the image teh Film Crew that is producing the documentary "Pasión Latina". It is during such nights of amazing Grace that my 1885 guitar, owned by legendary Paraguayan guitarist Agustin Barrios Mangoré adds an amazing seal to an already unforgettable evening. The guitar has been in my possession for over 15 years and it will be premiered again, after Barrios' last performance with her in 1918, in the concerts we have been jotting down with Gloria and Magalí this memorable evening.

The guitar is tremendously beautiful and I know am holding a treasure knowing that Barrios played many of his beautiful masterpieces on this magical instrument.
The guitar is a part of Paraguay history and was depicted on Paraguay's
50.000 Guaranies bill
. Read the full story of this legendary instrument following this link
HERE>>
Stay posted for the latest news. San Bernardino, Paraguay, April 9, 2018, July 8, 2018. S.D.G.
I have taken my Barrios' 1918 Marin Guitar to Paraguayan TV and Radio shows and I like to come up with the joke that "every Paraguayan has a picture of this guitar in their wallets..."
(Image Above) My Barrios Mangoré guitar depicted on the 50,000 Guaranies bill. One of the great highlights of Pasión Latina Chapter Paraguay was our visit to Mangoré's childhood home in San Juan Bautista de las Misiones, Paraguay. Guitarist Luciano Pompilio, Soprano Gloria del Paraguay and a film crew to document our every move spent all day visiting and performing in and around Barrios Mangore childhood home. The visit is part of the documentary "pasión Latina" which will be released soon. Harpist Rito Pedersen and guitarist Guido Cheaib were among the other eminent artists that took part in the documentary and that made it possible for this day to go down in Paraguayan history. Luciano Pompilio (Image to the left), -posing with Renato Bellucci under Mangoré's statue in San Juan Bautista, Paraguay- is a great Italian player and performer. He finds his way around the most demanding pieces from the classical repertoire with ease and passion. Barrios Mangoré is perhaps his "specialty". Luciano has been the member of one of all-time greatest guitar duos: Caputo-Pompilio until Mr Caputo's sudden death a few years back. Luciano has toured the world and I had to make sure that his stay in Paraguay would be an unforgettable experience. To visit Agustin Barrios' Childhood home in San Juan Bautista de las Misiones in Southern Paraguay is one of every guitar player dream come true.
Concert Night, July 14th 2018
Concert Night was Saturday July 14th at 20:30 sharp. The venue was the main hall theater "José Asunción Flores" at the Central Bank of Paraguay. It was filled to the top. 1,100 people. Both national and international dignitaries were present at the event among them, the Minister of Culture. The audience was eagerly expecting the opening chords by the renowned Italian guitarist Luciano Pompilio. Luciano was received warmly by the audience and broke the ice with a heartfelt Interpretation of Barrios' "Sueño en la Floresta"... Granados dance #5 and La Catedral soon followed. I soon followed with Barrios' "Una Limosna por El Amor de Dios", Myers' "Cavatina" (Video to the right) and Asturias by Albéniz. You could hear a pin drop such was the silence in the hall. My 1885 restored to new Barrios' guitar was back on stage after 100 years. It was last played in concert by the Paraguayan Master at the "Virgen del Rosario" Church in neighboring Luque, in 1918.