Agustin Barrios Mangore Concert Guitar
Renato Bellucci private collection.
Right after dinner on April 29, 2011 and coinciding with their visit to Paraguay, Sharon Isbin, Xuefei Yang, Ana Vidovic and Daiana Ferreira all took turns to play my Agustin Barrios Mangore 1918 guitar.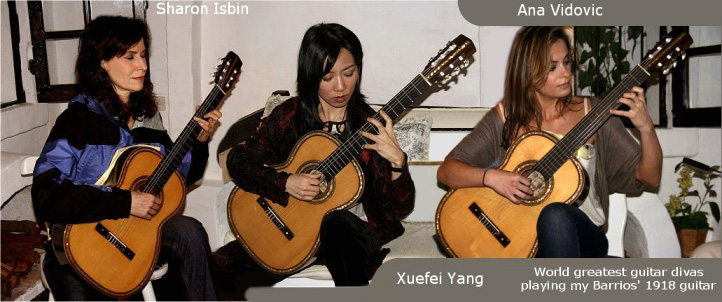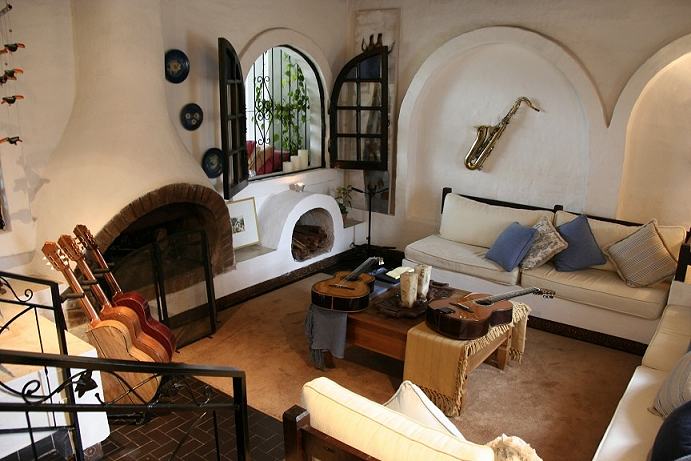 Renato Bellucci Asuncion Residence where Sharon Isbin, Xuefei Yang, Ana Vidovic and Daiana Ferreira played my Agustin Barrios fully restored concert guitar.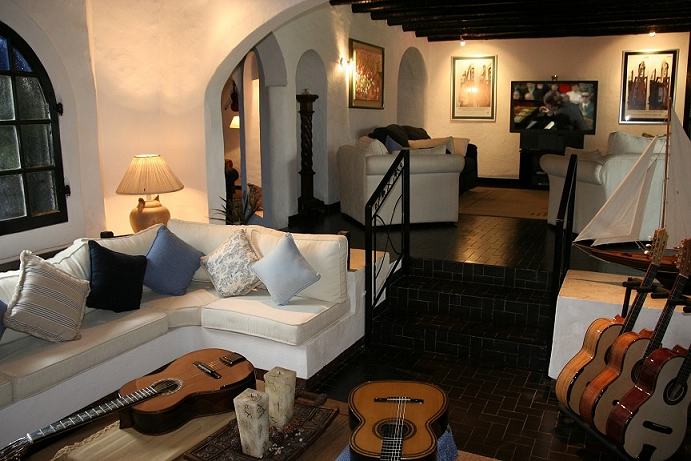 This is the view of the house as each one of the players would see it when playing sitting in a chair that was located right under the window to the gallery in the picture above. Before these prestigious guitarists arrived, I sat and tuned each guitar to perfection using my tuning fork. The first to play was Sharon Isbin and she commented "Wow she is perfectly tuned!"... I know that she probably expected to find her out of tune but I will simply not let something like this happen.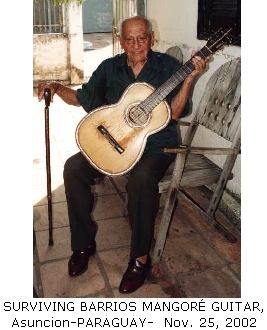 Eliodoro Aguilera, 110 years old, would pass unnoticed as a name if it were not for the fact that he owned one of Mangore's guitars. Eliodoro's mom bought the guitar from Mangoré. She paid 800 pesos for it (as Eliodoro put it: "you could buy a cow for that kind of money...") She bough it from Mangoré the day after a recital the Paraguayan master gave at the Luque Church (Luque is a neighboring city of Asunción). Below to the left, is the picture I took at the Andres Marin guitar on Mr. Aguilera's lap. (Nov/25/2002)...
Mr. Aguilera is an energetic 110 years old with an iron memory and agile body and a huge passion for soccer. His only material possession was this jewel. When he brought it out from his bedroom (he kept her in a closet) his eyes started filling with tears as he started going back in the years. He has been offered different sums of money for the instrument but as he so simply put it "what am I going to do with the money??" The craftsmanship on the guitar is simply astonishing. I was taken back in time with my imagination and I could see Barrios playing and composing with it. It was like a flashback. At the same time Mr. Aguilera told me of the serenades he would take to his sweethearts with the "magical guitar"... I played a single note on the Marin. I did not want to tune it since the strings were oooold and the guitar needed some restoring.
The story goes like this: After the Luque Cathedral recital, 18 years old Eliodoro approached Barrios, who was standing outside the Luque Cathedral looking at the people coming and going, and, after a brief introduction, told Mangoré that he wanted to learn how to play the guitar and was desperately looking for a good instrument. Barrios told him "I can sell you one of my guitars since I bought a new one in Spain a few weeks ago*... I will wait for you at this address tomorrow... (his brother's home in downtown Asuncion)" . Mr. Aguilera's mom punctually attended the meeting, paid the Maestro and the rest is history...
Jorge, Mr. Aguilera's grandson and one of my students, took me to his grandfather's house, picture above, to see the guitar. Jorge brought the guitar to my house a few days later saying that his grandpa was going to rest in peace knowing that his most loved material possession was in my hands. I promised I would have the guitar restored so as to be able to play her again which I did. The guitar is back in the studio since yesterday, May 3 2005.
*This quoting is not literal, nor is the sequence of facts. The guitar may have been bought by Barrios in South America. "
For mangore.com 10th anniversary (2007), My luthiers and I decided to give this beauty a total makeover. After 2 months of work, she made her debut again today June 23rd 2007. We made her a playable concert instrument. We rectified the fingerboard, changed the frets and tuning machines, sanded her and got her covered in hand applied lacquer. I played Una Limosna por el amor de Dios on her and she is back for another 150 years !
Fully restored Agustin Barrios Mangore concert guitar, Bellucci collection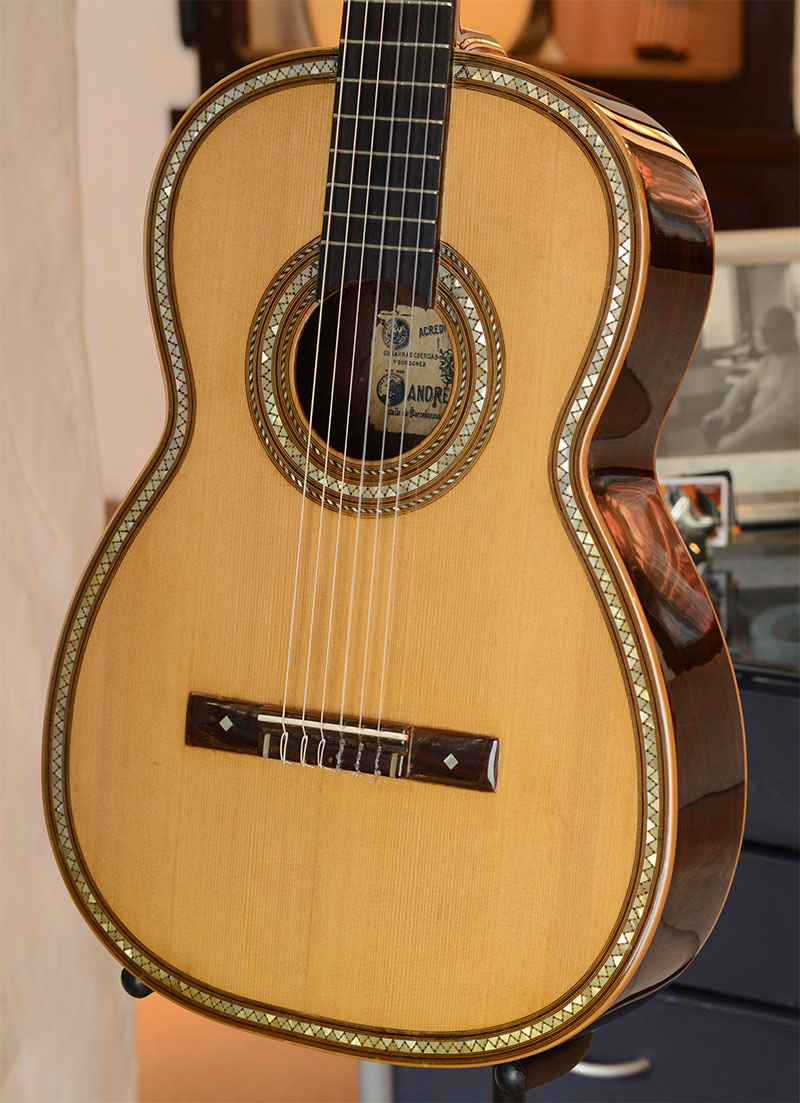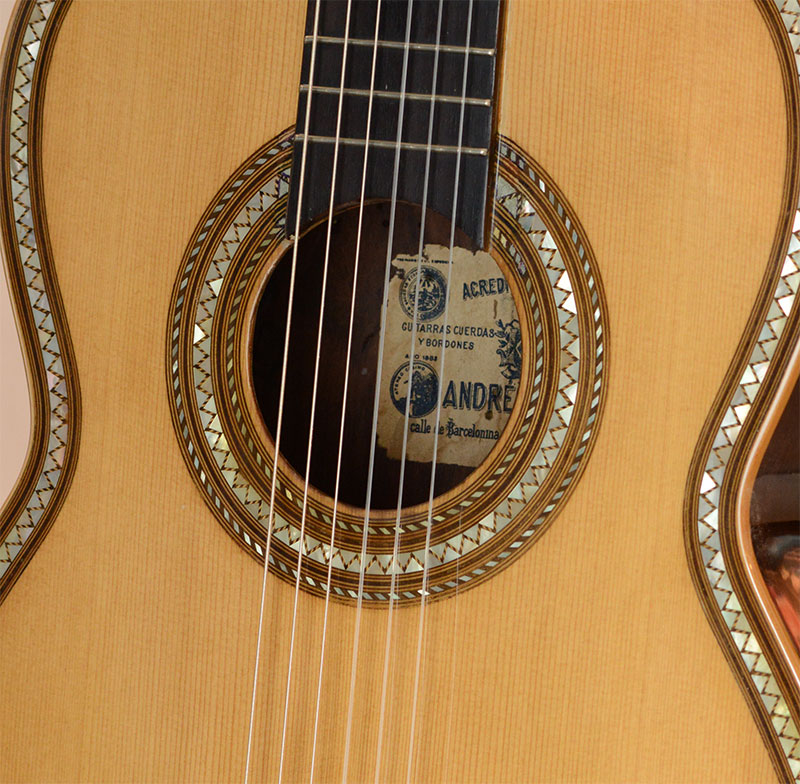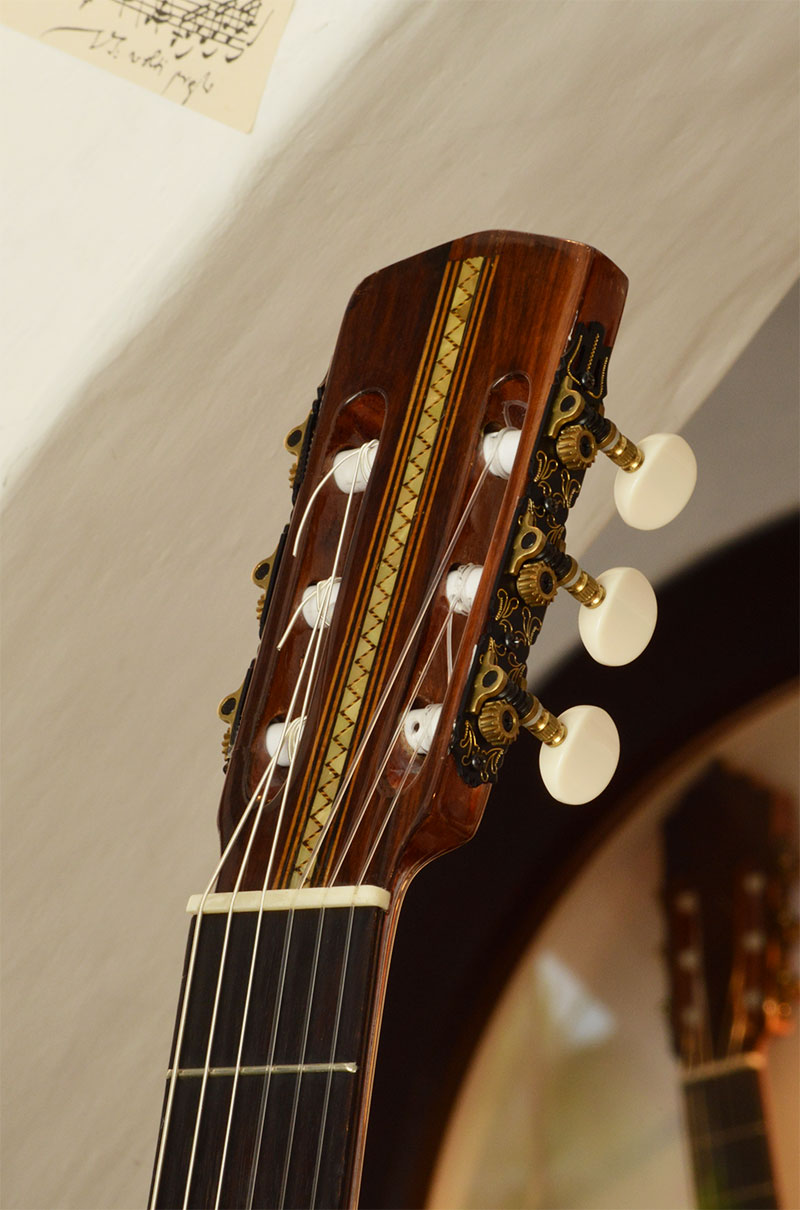 Fully restored Barrios' guitar (Bellucci private collection, Asuncion-Paraguay, May 11, 2013)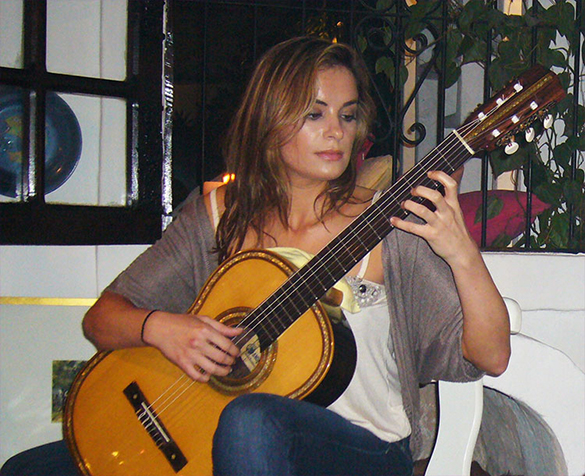 Ana Vidovic Playing Agustin Barrios Guitar
I can hardly describe the mixture of feelings and shivers that I get every time I play her. I play Una Limosna por el amor de Dios and tears start filling my eyes.
A few months ago (February 2008) this amazing guitar posed for the new 50,000 Guaranies bill (Guarani' is the official currency of Paraguay and Guaranies was the name of the aborigine tribes that lived in the region prior to the arrival of the Spaniards). She's depicted on one side and the Paraguayan master is depicted on the other side. She is a part of Paraguayan and world music history! Eliodoro's generosity will go down in history with his beloved guitar.
My last addition to this story is the video I just made (April 12, 2010) of the legendary guitar. I had to play Barrios' last composition "Una Limosna por el amor de Dios". I play this guitar at exclusive recitals only. She adds a magical atmosphere for being the instrument that she is. When I play the instrument I feel tears coming to my eyes and an indescribable feeling invades my soul. The guitar is now a part of my artistic life and a blessed one at that. The sound is full, mature with a sweetness that is very hard to be put into words..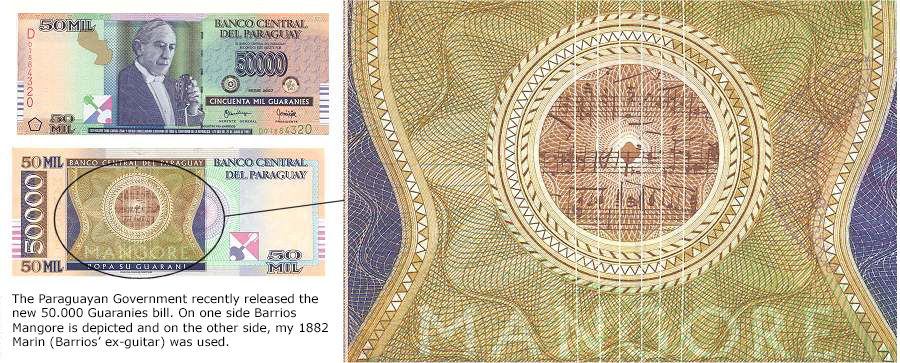 The continuation of this class is in the members area, become a member today.