A night to remember
Dinner & Music with Ana Vidovic, Xuefei Yang & Sharon Isbin playing Bellucci Guitars
Three of the greatest guitarists of all times were in Asunción for 8 days. I had the honor to host them for an unforgettable evening of good Paraguayan food and music on the evening of Friday, April 29th 2011. As you can imagine, when guitarists of this caliber visit your home and play your instruments surrounded by your wife and children is recognition I could have only dreamed of when I started building my guitars in 2004. It all changed in April 2011 thanks to the talent and generosity of these amazing artists. As a token, I'll let you enjoy this clip of Ana Vidovic playing Asturias on one of my concert guitars... Ana loved each single instrument and had words of admiration and flattering compliments for each one of my guitars. She appreciated the violin tie as a "genial system", the special cutaway and the radiused fingerboard... The inlay work on one of the Cedar top and the detailing in the construction literally kept her in awe. I elaborated on my innovations and we share the same innovative sprit in life. Ana Vidovic guitar technique and Xuefei Yang's are flawless. Ana's is different from anything you have ever seen before. Her motto is "if it works for you...". Ana is an amazing artist and her trademark is the simplicity of the great souls that illuminate our lives. Xuefei's amazing repertoire is simply staggering and her technique is marvelous. Sharon Isbin's interpretation of each piece makes you feel as if you are suspended in the air. She flavors each musical phrase and you can tell that she is a consummate musician. Further down I will write extensively about each one of these unforgettabe 8 days with the Divas in Paraguay.
Above you can see and Hear Ana Vidovic playing Asturias on one of my guitars (Purple Heart B&S, Spruce Top)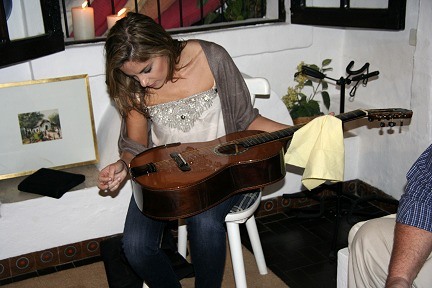 Guitarist Ana Vidovic, looking at the Bellucci Violin Tie system. Anna was amazed at the beauty of the instrument.
Ana was amazed at the intricate inlay work and detailing of the guitars. In the picture above I am showing Ana the radiused fingerboard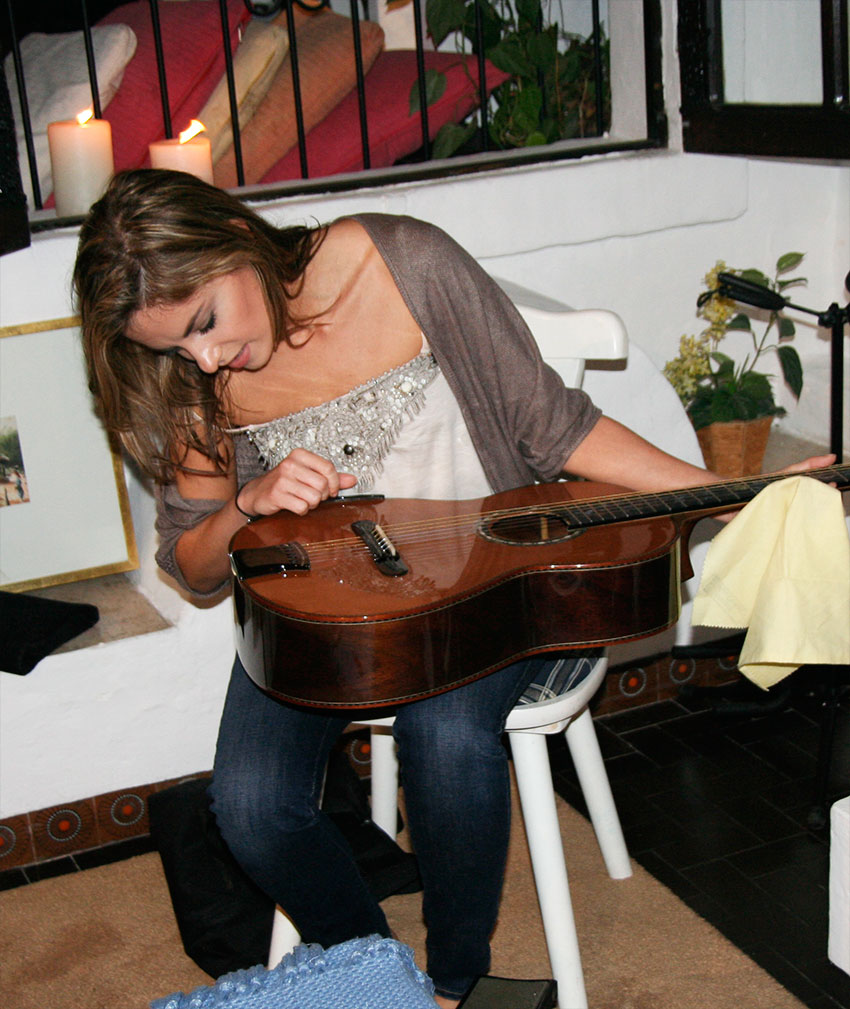 Ana thought that the Violin tie was simply genial. The system made "a lot of sense".
Thursday April 29th 2011: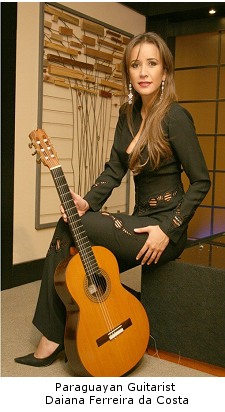 April 29, 2011 was the vigil of a very special day not because Prince Williams is getting married but because I will have 3 of the most famous and prestigious guitar players in the world at home for dinner. Ana Vidovic from Croatia, Sharon Isbin from the US and Xuefei Yang from China. Daiana Ferreira Da Costa, the renowned Paraguayan guitarist and former Miss Paraguay, contacted me a few months ago when she was organizing the "Divas" guitar festival in Asuncion which is part of the many events that will take place this year to celebrate Paraguay's Bicentennial. Daiana knew that she could count on my help and, as we had dinner at my home in San Bernardino, we planned activities to entertain the visiting Divas on their week long stay in the land of Barrios Mangoré. They will be traveling to San Juan Bautista to visit Agustin Barrios Mangoré birthplace among other Paraguayan landmarks. One of the activities we organized is the dinner party that I will hold tomorrow evening. I will present them with the Agustin Barrios guitar that I have in my possession. I will also present them a few of my concert guitars.
As you can imagine, I have been working around the clock to make sure that everything is perfect. Typical Paraguayan appetizers, aho poí table decoration, flowers and a myriad little details to ensure a night to remember. My wife Belén and our 7 children will be attending the memorable event. My children have over a dozen pictures of the Divas ready to be dedicated and autographed.
Ana Vidovic (31) is from a small town, Karlovac near Zagreb, Croatia, and started playing guitar at the age of 5. By the age of 7 had given her first public performance. She has won every prestigious guitar competition in the world and graduated under Manuel Barrueco in 2005. She has played well over 1000 concerts worldwide and is considered one of the best guitar players ever.
Sharon Isbin (55) is practically speaking a legend. She's originally from Minneapolis, and began her guitar studies at age nine in Italy where she studied with Maestro Oscar Ghiglia. Since those early years she has marked the guitar world deeply by becoming the Director of guitar departments at the Aspen Music Festival and The Juilliard School which she created in l989 becoming the first and only guitar instructor in the institution's 100-year history. She's a Grammy Award winner and a regular player at the White House.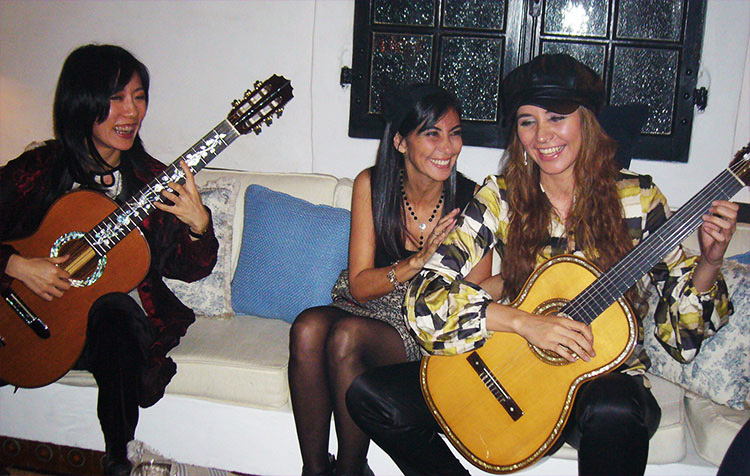 Above, Xuefei Yang with Bellucci Guitar, my wife Belén Angulo Bellucci & Daiana Ferreira playing Barrios' 1918 guitar
Xuefei Yang (34) was discovered by world renowned guitar player John Williams who literally introduced her to the Royal Academy of Music in London after hearing her play in China. She has won innumerable prizes in guitar competitions and has toured the world several times over.
Monday May 2, 2011:
I will now start to remember everything that happened on this memorable April 30th chronologically. Preparing our home was the first step to ensure that the atmosphere would complement the event to perfection and ensure that everyone would feel at home. My home is a piece of art on her own right. Being a guitarist, married to a pianist (my wife Belén is an accomplished classical pianist and a nutritionist), our nest had to represent us justly. Our home has been the focal point of musical encounters since the late 1970s... It has been photographed by every major decoration/architecture magazine you can think of and innumerable commercials have been filmed here..... it is one of Paraguay's most beautiful homes built in a Mediterranean style with a Paraguayan touch to it.
The pictures below depict the music living room one hour before Ana Vidovic, Sharon Isbin and Xuefei Yang arrived. Everything was perfect... only the candles remained to be lit.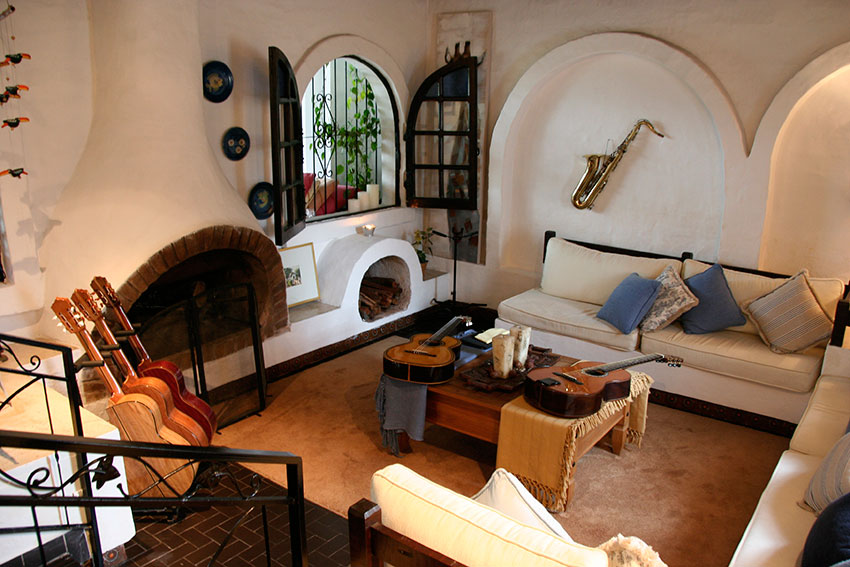 Renato Bellucci's Asuncion Paraguay Residence with Xuefei Yang, Ana Vidovic, Sharon Isbinv & Daiana Ferreira

The 3 guitars on the left are 3 Bellucci guitars along with the cedar top on the right side of the table. To the left side of the table, you can see Agustin Barrios 1918 guitar. Every single guitar was played by the Divas and they all had preciously rewarding words to dedicate to them.
The 3 guitars to the left are: Purple Heart, Palo Escrito and Tasmanian Oak back and sides -starting from the far right-. The 2 guitars on the table are Brazilian Rosewood babes. Each wood has its own very unique set of tone colors just like different species or blends of tobaccos or bouquets of wines...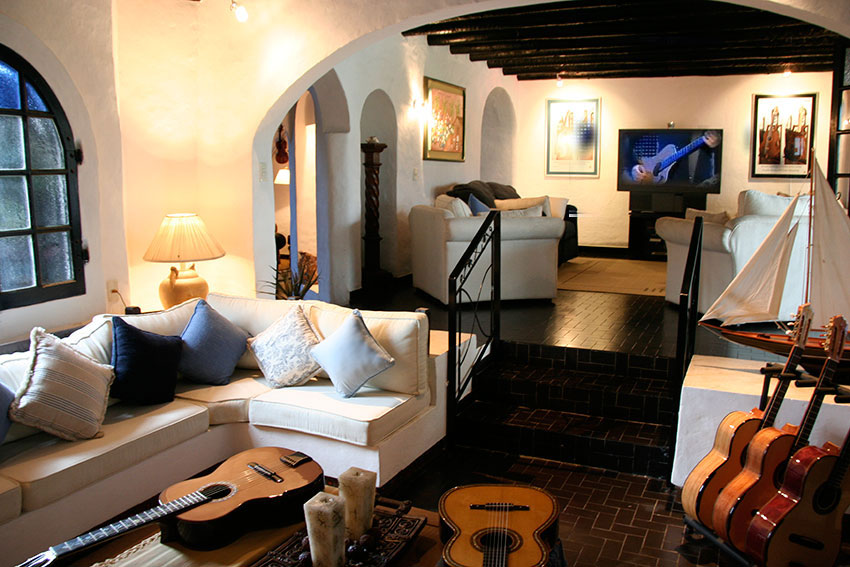 View of Renato Bellucci's Residence from the lower level living room.
View of the living room where Xuefei Yang, Ana Vidovic and Sharon Isbin played my concert guitars
This is the view of the house as each one of the players would see it when playing sitting in a chair that was located right under the window to the gallery in the picture above. Before the guests arrived, I tuned each guitar to perfection using my tuning fork. The first to play was Sharon Isbin and she commented "Wow she is perfectly tuned !" ... I know that she probably expected to find her out of tune but "Mr. Bellucci" will simply not let something like this happen ;-)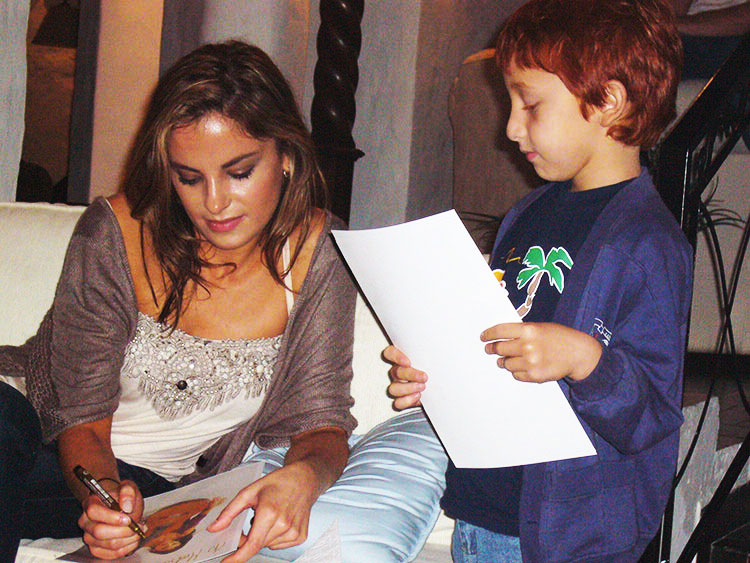 Ana Vidovic signing autograph for my son Matias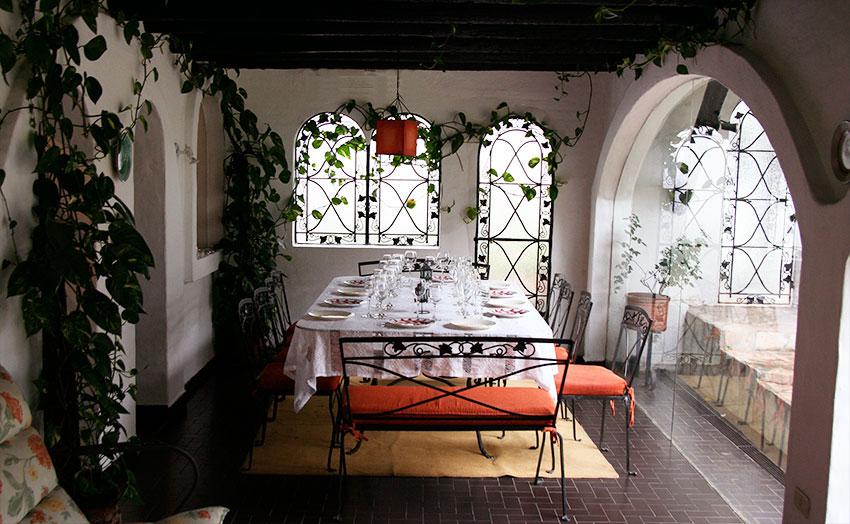 The dinner table is all ready and decorated for the memorable evening
Tuesday, May 3rd 2011:
Friday had been a very nice day with a temperature in the high 20s C (80.6 F). At about 6 PM a torrential rain preceded by lightning and thunder begun... The windows in the gallery overlooking the garden started to get steamed up as the humidity had reached its peak outside and the air conditioner was maintaining a comfortable 20 C inside. This added to the mystic of the evening since the illumination of the garden coming in through the large steamed windows created a wonderful diffused effect.... Romantic to say the least. Therefore, even the torrential rain was adding up to the already electrifying atmosphere.
My only concern was the flooded streets of Asunción that literally become city rivers in a matter of minutes. A call from Guitarist Diana Ferreira immediately eased me up...she tells me, in her always joyful tone of voice, "The girls and I are on our way... the traffic and the flood may delay us a bit..."
Finally, at 7:30 I hear the engine of an SUV and a door closing just outside the driveway. My wife Belén opens the door to start greeting the girls. My 7 children and I welcomed them in the house with flowers, kisses and hugs... :-)
They thanked us for the flower welcoming and proceeded to to praise our home and the beautiful architecture. After a brief walk through the four main living rooms adjacent one to the other and only separated by arches, their attention was focused on the guitar display I had prepared with anticipation.
As Sharon Isbin was preparing to play on my 1918 Barrios guitar, Ana Vidovic was looking closely and admiring the amazing work on the Bellucci Cedar top that was laying on the table. "Very beautiful... look at all the inlay work ! ¨ Xuefei was right next to her and would follow up on Ana comments with "yes, really beautiful" . They would slowly gain confidence and start caressing the parts of the guitar with their beautifully stylized hands...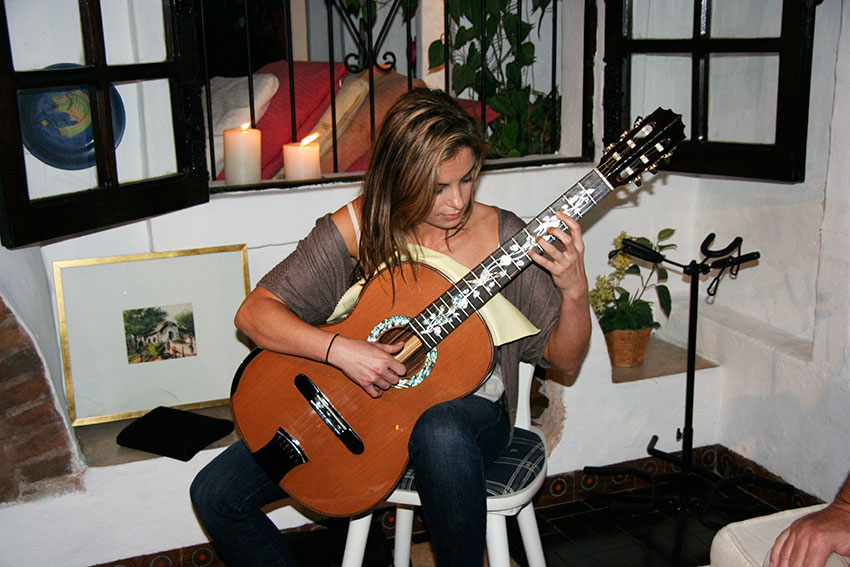 Ana Vidovic plays Bellucci Cedar top Concert guitar with some amazing inlay work throughout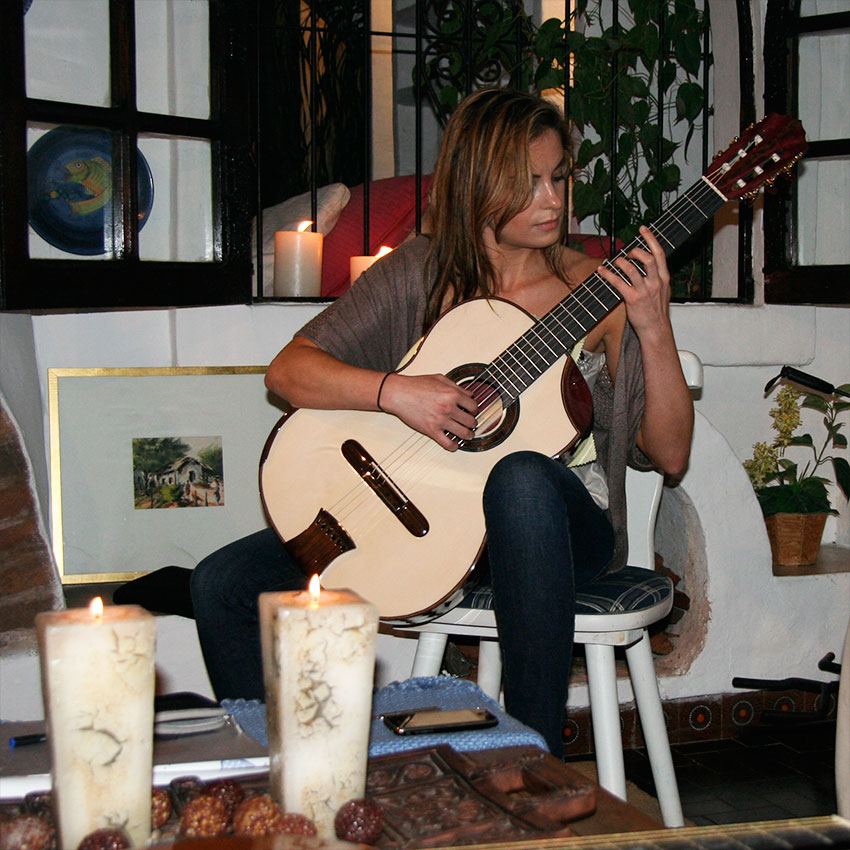 Ana Vidovic Ripped Asturias on a Bellucci Spruce top guitar with Purple Heart back and sides
Ana Vidovic and Xuefei Yang admiring the detailing on the Bellucci Cedar top as Sharon Isbin was preparing to play on Barrios' guitar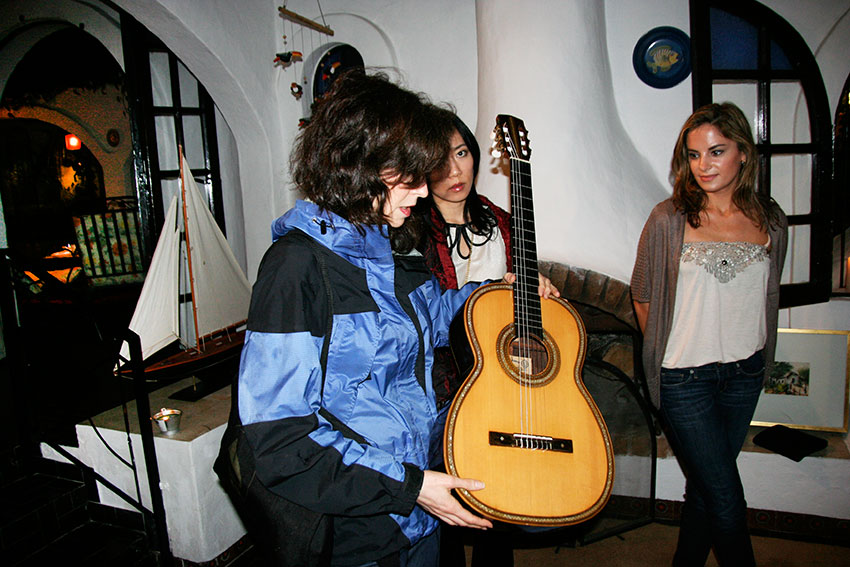 As soon as I passed Barrios guitar to Sharon she started admiring the beauty of the inlay work (image above) and the amazing restoration work performed on the 1885 instrument. The guitar is a turn of the 18th century classical Torres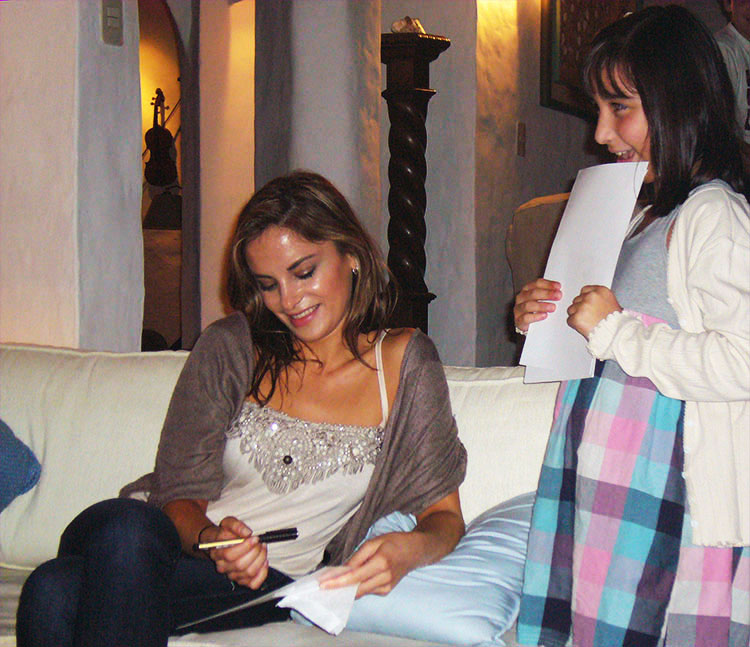 Ana Vidovic signing autograph for my daughter Daniela
As they were admiring the guitar, Sharon Isbin was preparing to play on the 1918 Barrios' Mangoré guitar that I had just handed to her. We sat down and started hearing Sharon comments on the 1885 Marin guitar (Agustin Barrios played this guitar for the last time at the Luque Cathedral in 1918). "What a sweet sound, beautiful... what is the scale?...." I answered " 650..."
Soon after we were all immersed in the most beautiful music played by the greatest performers... Bach, Barrios, Rodrigo, Lauro and many other legendary composers echoed through my home as each performer was taking turns to play ...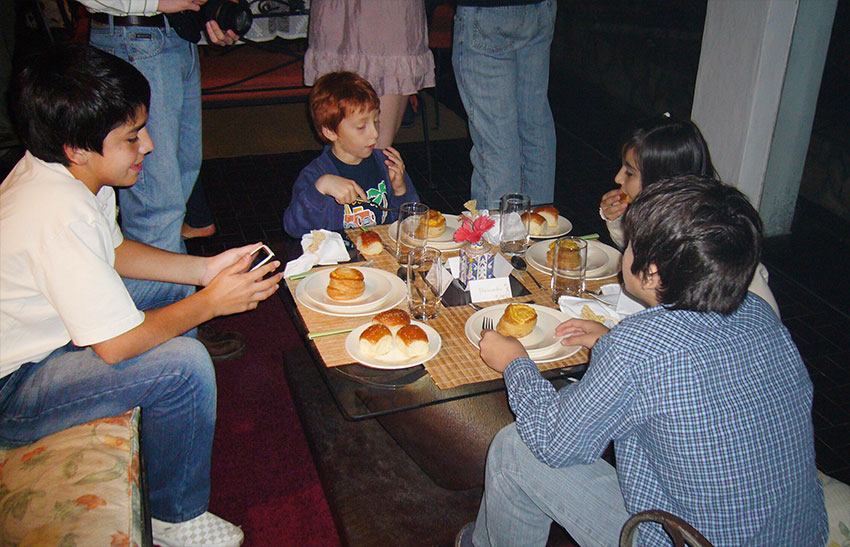 In the picture, 4 of my 7 children who attended this unforgettable evening
Below you can see Fei, Ana and Sharon playing my concert guitars. Fei fell in love with the Tasmanian Oak back and sides and played one piece after the other non stop.... She only came to realize she was playing a cutaway when her hand passed the 12 fret as nothing was there to contain the rapid movement of the arm.... She laughed and said... "ah, she's a cutaway ! So easy to play". To which I followed up saying " yes, I think all guitars should be cutaways" . To this day, I believe that the cutaway is the best evolution in the classical guitar construction since its very origin. I must stress that Fei is a very funny and gentle person....

Wednesday, May 4th 2011:
Before continuing with the chronological recount, I must make a brief pause and report on last night's amazing concert that Ana Vidovic offered to a packed house. Paraguay's President Fernando Lugo was there and so were every diplomatic and political personality you can imagine. I have looked into the dictionary to find the right words and adjectives to describe the emotions, mastery and artistry that this splendid artist can create and offer from stage and in the intimacy of everyday life....
In my 49 years with the guitar I have listened to innumerable masters and every time, Ana made the Asuncion Flores theater explode with joy and euphoria...
When an artist moves so close to perfection, you know she's offering an idea of what humans are capable of. When you start a concert with one of Bach most demanding works (Prelude BWV 1006) and finish with a similarly tough bone as Barrios' La Catedral you make a statement and you leave a deep mark in every one's heart and soul. Add to this the great artistry and the gentle soul that Ana possesses, and you know that you are in the presence of greatness.
Bravo Ana for having worked so hard in polishing your God given talent. It brings joy to so many hearts in as far away places as the land of Barrios... Paraguay...
Thursday May 5th 2011:
I have never bought 5 CDs by a single artist ever. It all changed at Xuefei Yang concert last Tuesday. After hearing her play live at home last Friday, playing an amazingly wide repertoire and showing a perfect technique and feeling for music, I had to buy her CD collection and I did just that as I entered the Asunción Flores theater where she was about to perform.
It was the opening night of the Divas guitar festival in Asunción. A 2-parts concert where both Xuefei Yang and Ana Vidovic would leave a deep, unforgettable mark in everyone who attended (over 1,500 people).
The amount of pieces Fei recorded in a 10 years span is amazing. Below are the 5 CDs I purchased. Mine were dedicated and autographed at the dinner we had after the concert at Rolandi, a first class restaurant at walking distance from the hotel where Fei and the other Divas were staying.
I have been listening to her CDs non stop since I purchased them on Tuesday. Dazzling music performed by a true master of the guitar. Xuefei will be performing at Carnegie Hall this coming December and that is a place reserved for music Royalty. She was heading straight for Beijing from Asunción to take part in a the very prestigious Beijing Music Festival 2011.
The Beijing Music Festival is the summit for the topnotch classical and jazz musicians. In the past, the festival hosted well acclaimed musicians and orchestras like the Vienna Boys Choir, Royal Liverpool Philharmonic Orchestra, Deutsche Oper Berlin and The Kenyan Boys Choir. This festival also strives to schedule rarely performed pieces or premiers like Mahler's 'Symphony of a Thousand' and Wagner's complete Ring Cycle. The organizers also think about the young music lovers and organize concerts for them without any admission fee. It is a truly global and cutting edge musical experience and Fei will be playing there.

The pieces she recorded are amazingly beautiful, challenging and she literally covers every type of repertoire you can think of: Bach, Albéniz, Tárrega, The Beatles, Granados, Stephen Goss, Wang Huiran, Barrios and the list goes on and on... The only challenge she may face is finding more guitar music for future recording projects :-).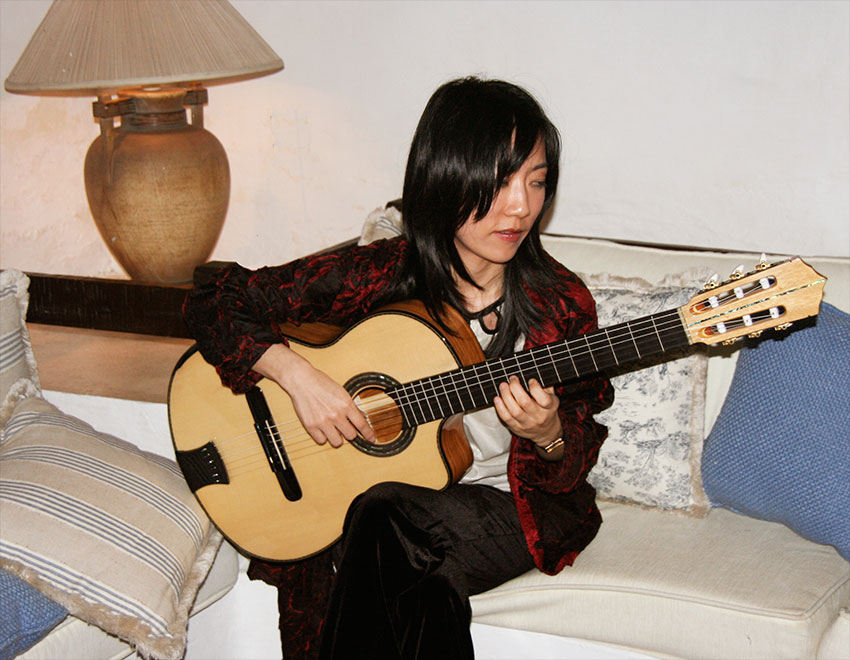 Xuefei Yang with Bellucci White Oak Cutaway guitar. She absolutely loved this guitar
Above you can see Xuefei plays my guitars and Barrios' mangore 1918 guitar
See Xuefei Yang rip it at the Asuncion Festival
Xuefei Yang delighted me and everyone else at the dinner party I held at my home. She played several pieces from her vast repertoire on all my guitars plus the 1918 Barrios´ guitar from my collection. Her technique is polished to the maximum and her fingers fly as she plays the different pieces from the great repertoire she possesses. In the video, Fei comments that the Barrios guitar is "small". Yes, the Marin has a small body, typical of the turn of the 19th century although the scale is a full 650mm. As it were to be expected, Xuefei played Barrios´ "Un sueño en la floresta" on my 1918 Barrios' guitar. That was a surreal moment... I can only imagine the Paraguayan composer rejoicing in Heaven. She particularly loved the power of my Spruce top and at a certain point in the execution, she comes to realize that it's a cutaway because her hand finds no restrain at the 12th fret and laughs it out !...
The concert on the 3rd of May was pure mastery of the instrument and the repertoire. Fei plays with a total dominion of the instrument, a polished sound that only few masters can develop and she proved that the great land of China is the cradle of talent beyond everyone's imagination. I look forward to receiving her in Paraguay soon again.
Saturday May 13th 2011:
One of the greatest satisfactions that awaited for me on that memorable night (April 29th, 2011) with Sharon Isbin, Xuefei Yang &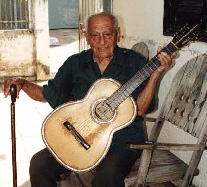 Ana Vidovic was the possibility to play for them and my entire family. I used Barrios' 1918 guitar.
Anyone who is passionate about a particular area of human art or history, will understand that certain instruments can easily become a man's favorite possession.
Imagine for instance being a piano player and having the possibility to own and play one of Beethoven's pianos... or a Van Gogh admirer and owning one of his many brushes... Well, the same is true with Barrios' guitar. The greatest composer for the guitar ever, left one of his instruments behind and I was the man chosen to possess such a beauty and pass it on to future generations. I received her in deplorable conditions and after nearly 10 months of restoration work took her back to her original splendor. You can read the complete story of this beauty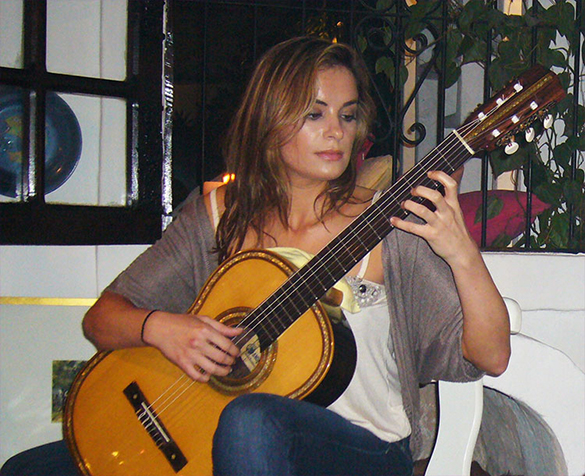 Ana Vidovic Playing my Agustin Barrios 1918 Guitar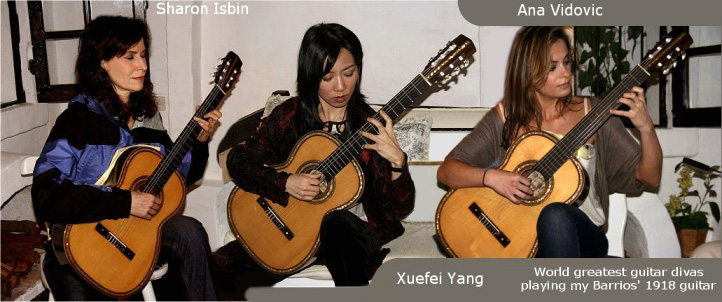 Some of the comments posted since posting this article:
Kurt Waugh from the US: extremely impressive, Renato!!!
Mintu Bora from Indonesia: Maestro Renato, that's going to be one really musical dinner. Wow, the very best of guitarists. And beautiful Ana!!! :-) I wish I were there :-(

Efrain Guzman Villanueva from the US: Una lastima no poder ir pero deseo un acontesimiento espectacular!!!

Bodhi Civa from Indonesia: Is Ana married? Ehm... just curious:)

Afshin Jalili Ziyaeian from Iran: marvelous evening with great guitarists. Maestro, have a nice time with them

Joseph Krygier from the US: What a gala. All that talent around your dinner table. Enjoy. And the rest of the blog entries are so interesting. I met David Russell here a few years ago after a concert and Marcin Dyla another year. This year, Jason Vieaux will be here.all have been very gracious to say hello and talk for a few minutes. You are much appreciated.

Concetta Resta from Italy: complimenti Renato, che soddisfazione per te e tutti voi!
The continuation of this class is in the members area, become a member today.