Carlevaro Technique
Bring Out Notes in Chords
One of the pieces that thought me the most when I was working with Abel Carlevaro in Montevideo was Heitor Vila Lobos Prelude #1. The main reason is that Carlevaro was studying composition with Villa Lobos in Rio de Janeiro when the work was being composed and since he was a virtuoso guitar player and his teacher Vila-Lobos was not, Vila Lobos asked Carlevaro to give or share if you prefer his input or ideas regarding several musical passages of the work. As we all know, the work was dedicated and commissioned by Segovia, but Abel Carlevaro intimately felt that he co-composed the work or at least was instrumental in making it one of the best classical guitar pieces of all times. He manifested this to me very clearly and with pride. This is the type of piece that Piano players, violinists, Conductors and singers respect the most among the classical guitar repertoire. The reason in my opinion is that it fits the guitar to perfection and I sincerely believe that Carlevaro was instrumental. No other Vila Lobos work fits he guitar so beautifully.
Below is a passage in Vila Lobos Prelude 1 requires that you be able to make a melodic notes sequence (the F-E-D#) stand out in a chord.
Unless you are the master of your fingers (worry not, it is my intention to eventually make you into one), the note that will want to stand out naturally is the B played by finger a. The piece requires the F played with the m to stand out. See and hear the video above. The way to achieve it is by combining these 2 techniques:
- Bring finger m out more.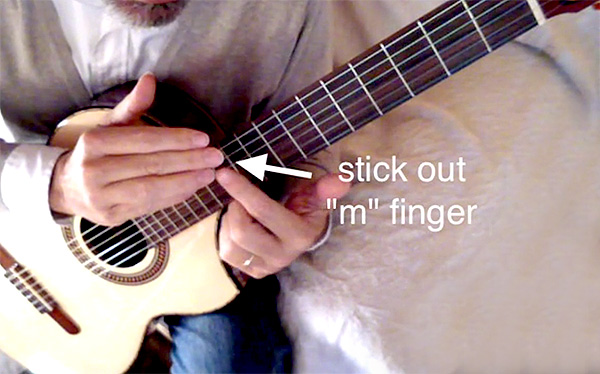 - Use more Fijación on m.
Of the two options I prefer the first. Bringing a finger out more is literal. The m will be protruding above the rest of the fingers. This is how the fingers are plucking the strings in the Vila Lobos passage above. This is a video I made while teaching Villa Lobos' Prelude #1.
To work this technique, which is essential if you want to take your playing to the next level, what I recommend is that you use the passage from a real piece like the Vila Lobos prelude.
Before I start analyzing the left hand I will list a number of GREAT EXERCISES that I used when I worked with Abel Carlevaro. I used them all at one time or another. I eventually selected a handful that I used for a 3 to 6 months period. I recommend you check these selected studies here →
Below is another great example taken from Bach Fugue BWV 1000, Staff #19. In the video I mark in different colors the string that carries the main melody that needs to brought out from teh pack. Study Bach's Fugue BWV 1000 here →

The continuation of this class is in the members area, become a member today.