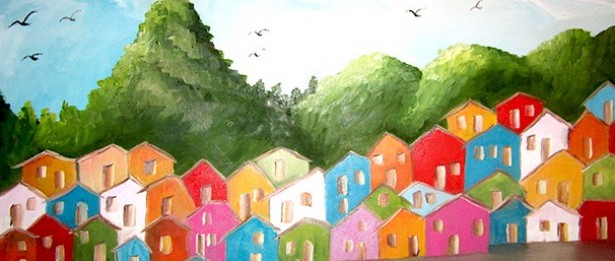 Baden Powell, "Brazilian Portrait"
Version and Fingering: Renato Bellucci
Brazilian music inspires the most beautiful and expressive feelings from a composer's heart. Such is the case with this gorgeous Choro by the Brazilian guitarist Baden Powell. Powell definitely made his guitar sing and he added to both Bossa Nova and Brazilian music in general, a unique flavor, one that most guitar players can only attain to achieve. He died in 2001 in Rio de Janeiro at the age of 63. Booze and tobacco shortened this talented musician's life.

His last concert was only days before his death in Belo Horizonte.

Baden Powell was born on August 6, 1937, in Varre-Sai, a little town in 220 miles from Rio de Janeiro. His father, a shoemaker, boy scout leader and tuba player in his free time, named the son after Sir Baden-Powell, the British soldier who in 1908 founded de Boy Scouts.

He started to play jazz in Rio's nightclubs. He would soon meet and become friends with such bossa nova icons as Tom Jobim and Vinicius de Moraes. His first hit came in 1956 with "Samba Triste".

Brazilian portrait is a jewel of Universal proportions. A special appoggiato effect is used in the right hand to bring out the amazing depth of the melody.

I will post the piece as it was recorded by Baden Powell in his 1980 recording Nosso Baden. A complete staff is missing from all the scores I found. I recently picked the staff by ear from Powell's LP.
Retrato Brasilero, Baden Powell. Punta del Este, Uruguay.
Staff and Video 1
The main melody and the accompaniment walk on two different rails at different heights. Use your RH palette of color and tone to achieve the depth required by the piece. You can choose to tie the notes as shown on the staff or play them normally... expression rules. This is the type of work where there is simply "no place for string squeaks and any unwanted "faulty technique" shortcoming. Use the arm and elbow to lift the fingers perpendicularly off the fingerboard
Finger 3 works as a pivot and a lever. It stays in its place, stopping the A while the right hand rotates around it to present the D# in measure 2.
This is the mechanics involved in the production of this special appoggiato. As you can see, the whole hand is involved in the production of the sound.
1- The a finger feels the string
2- The a finger stiffens (fijacion) as the RH comes up and to the left
3- the a finger rests on string 2. This is a special effect and I will indicate it with an inverted V
Asunción, August 11, 2004
Revision: Santa Monica, CA, November 30, 2012
The continuation of this masterclass is in the members area, become a member today.